About Renew
Description
Ads /

Latest items listed
Sorry, no listings were found.
Posts /

Recent blog posts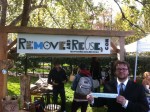 Quick picture with part of the removeandreuse.com team doing their thing at Creatively United for the Planet. Met lots of amazing people that are joining the movement to repurpose. Are you? Join today and post something thats just sitting around your house. Some ones looking for that thing right now.
977 total views, 0 today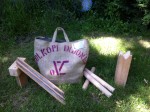 Mostly Repurposed Lumber and Limited quantities of custom recycled burlap bags now for sale through removeandreuse.com! Simply email your interest in ordering a set through the "contact us" area of the website and we will "set" you up! $55.00 for basic sets with rules, corner posts, king, blocks and batons. (make or find your […]
1529 total views, 0 today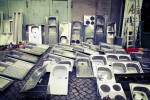 Extra wood under your deck? Leftovers from a tile job? Paint remaining from a project? Bag of screws? About to do some demolition on an area of your house… take a picture of the project BEFORE you rip it all out and POST IT HERE!! POST YOUR REUSABLES ON REMOVEandREUSE .COM FOR FREE AND DO […]
1276 total views, 0 today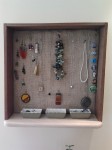 Need a fun burlap project? This is a jewellery display/holder made from burlap and a re-purposed cedar frame. It showcases necklaces, bracelets and earrings and helps keep them untangled. Lots of burlap available, check out the "free" category! This Project / Project idea was submitted by Sarah Rose Robert Think you have a great […]
1157 total views, 0 today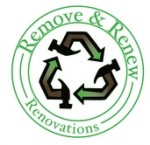 Looking to have a renovation done by a company raising the bar for sustainable, green building in the Greater Victoria area? Own an income property and need to have a job done with superior quality without the brand new price… Our friends at Remove and Renew can help. Call 250-884-6156 or email removeandrenew@gmail.com. Repurposing good […]
2841 total views, 0 today
Ever post the sideways picture from your phone to your classified ad on removeandreuse.com? (or elsewhere) Most smart phones need to be turned on their sides, like the look of a real camera, with the trigger button on the right. Start taking your photos for posting materials with the confidence it will look as you […]
1101 total views, 0 today
Do you have a project made from repurposed building materials? Send the Team @ removeANDreuse.com a picture and story behind the project, be it Art or Home Improvements we will have a look and possibly post yours on the website! Thank you for your ongoing participation in this green building movement. removeANDreuse!
1303 total views, 0 today
This built in cabinetry was constructed with 99% repurposed building materials. All that's left is the owners dap, prime and paint job to make this group homes new storage space complete! Post your paint today! Maybe this project doesn't use it, but maybe you bought to much and someone else also likes that colour. Finished product […]
2531 total views, 0 today
On Wednesday February 12 the removeANDreuse.com team visited the only Passive house on Vancouver Island. After a short presentation it is easy to see why this building design is going to continue to generate momentum within the industry. Bernhardt Contracting has certainly stepped up the game. Now lets incorporate some recycled products in these homes […]
1629 total views, 1 today
3171 total views, 1 today