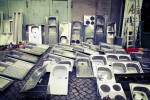 Extra wood under your deck?
Leftovers from a tile job?
Paint remaining from a project?
Bag of screws?
About to do some demolition on an area of your house… take a picture of the project BEFORE you rip it all out and POST IT HERE!!
POST YOUR REUSABLES ON REMOVEandREUSE .COM FOR FREE AND DO YOUR PART FOR VICTORIA.
sincerely,
R&R team.
1992 total views, 1 today