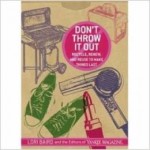 Tile The Table
Whether you're eyeing a tiny oak nightstand, a big round plywood kitchen table, or a 4′ coffee table, ceramic mosaic is the creme de la creme method for covering a worn, torn tabletop that wouldn't survive refinishing. Best of all you can incorporate broken tile pieces into the large design, as long as they're all the same thickness [otherwise the tabletop won't sit level]. Here's how to proceed!
You'll need:
table
tile pieces
tile adhesive
flat sided knife
grout
grout float
sponge
clean rags
grout sealer
1.Clean and dry the surface. Lay out a drop sheet below.
2.Create a design by laying out your tile pieces to fit into the mosaic on the tables top. Use the factory edging of the tiles on the outer edge to not leave jagged edges and avoid cuts.
3.Once you've got the pattern, start removing one piece at a time to reattach to the table top. Use flat sided knife or flat edge tool to apply adhesive to the unfinished sides of the tile and a little to the table [(R&R tip #1) a primer may help this install if the table is really smooth] [R&R tip #2 evenly spacing your mosaic tile shards from one an other will make your grout lines look great]
4.Complete this process until the mosaic is complete. Let dry overnight. Or check your adhesive for dry times.
5.Mix enough grout to completely cover the table (filling all grout lines)
6.Pour the grout over the tiles and the entire table top, pressing it into place with a grout float. Make sure you have filled all the grout lines and cracks in between shards.
7.Let the grout dry for roughly ten minutes. Then use a damp sponge to wipe off any that's still adhering to the tops of the tile pieces.
8.Let the grout dry completely, about 24 hours, then buff the filmy haze on the tiles left by the grout with a very lightly dampened sponge followed by a clean cotton rag.
9.Seal the tile and grout cracks/lines following manufacturer's instructions
10.Allow the sealer to cure as per the instructions and….
BAAM! New table.
RemoveAndReuse.com wants to see your table tops. If you have a project like the one described here send us a photo to be posted in our blog section. Who knows you may win a copy of Don't Throw It Out by Lori Baird. Must be within the Greater Victoria, British Columbia region to win!
4067 total views, 2 today