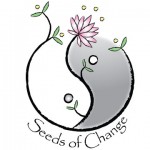 Some great workshops coming up with Kimiko at Seeds of Change.  Learn how to make household products from scratch!  Important dates are Nov. 12 and 30th.  Check out www.plantstheseed.com for details or keep reading.
Seeds of Change is a local business based in Victoria that provides Do-it-Yourself workshops on various household products to members of the community. The intention is to increase chemical awareness around the home while providing avenues of change through DIY products.
Kimiko Foster, the founder of Seeds of Change, is trying to develop a community of people who care about the products they put on their body and use around the home. Through experience and education people can feel how easy and economical sustainable living can be.
Upcoming Workshops
DIY Laundry Line
November 12 – 6:15-9:00 @ Oaklands Community Centre
–       Make 4L homemade non-toxic laundry soap
–       Make three 100% eco-friendly wool dryer balls
–       Make a homemade non-toxic stain remover
November 30 – 12:00-3:00 @ Oaklands Community Centre
–       Make an up-cycled record bowl, and a homemade bath salt blend
–       Learn from herbalist Avery about supporting the adrenals during Christmas and take home her special holiday tea blend
–       Experience multiple demonstrations on DIY body lotion products and take home a homemade non-toxic lip balm
–       Come and check out the many artisans and entrepreneurs showcasing their products for a mini-craft fair at the end.
Workshop registration must be through the Oaklands Center – 250-370-9101
Please visit www.plantstheseed.com for more information about Kimiko and Seeds of Change!
2335 total views, 1 today